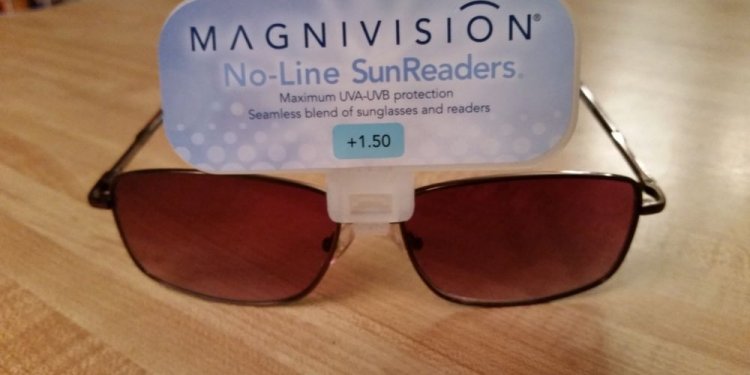 Bifocal Sunglasses For Women
Shopping at Aloha Eyes is risk-free . If you're not 100% satisfied with the look and fit of your new glasses, we'll cheerfully pay the return postage and exchange or refund your purchase.
"Creekside®" Bifocal Sunglasses with Wrap-Around Sport Design and Polarized Lenses for Men and Women
We've taken our best-selling Stone Creeks® and made them even better! Presenting Creekside® Bifocal Sunglasses, the newest from Aloha Eyewear's sporting collection. These high-quality reading sunglasses combine the very latest technology and style for your reading comfort and safety in outdoor conditions. Creeksides® are safe and secure, with wrapping polycarbonate lenses that are impact resistant and have a bifocal reader that's discreetly etched on the inside of the lens so you look as young as you feel when you wear them. The TR-90 space-age polymer frames are not only good looking but practically indestructible, perfect for those with a rugged, active lifestyle. Driving and outdoor activities are safer because PC Polarization eliminates the reduced visibility hazards caused by the glare of water, ice, snow and other reflective surfaces. Not only that, we've designed these glasses to be extremely comfortable. With just a quick squeeze you can adjust the V nose-piece to fit exactly to the shape of your nose and face. With Creekside®'s rubberized contact points and lightweight construction, you may forget you even have them on.
Highly recommended for driving, golfing, boating, hunting, cycling and anywhere else you may need to read while you work or play in the sun. Choose either the smoke lens for bright sunlight or the amber lens for cloudy days/high definition. Available exclusively from Aloha Eyewear you will not find all of these features in one pair of bifocal sunglasses anywhere else.
Fits Most Faces. Lens: 2.25 in. w. x 1.25 in. h. Temple Width: 5 in. Weight: 1.6 oz. Comes with Carrying Case to Protect Your Shades (Case Color May Vary Depending on Availability)
Available Exclusively from Aloha Eyewear- You Will Not Find All of These Features in One Pair of Bifocal Sunglasses Anywhere Else
Perfect Comfort Fit with Quick-Touch, One-Piece Rubberized Nosepiece and Rubberized Ear Pieces to Prevent Slippage
Lightweight Frames of Finest Quality TR-90 Polymer and Polarized Polycarbonate Safety Lenses Plus 100% UV Protection Shield Your Eyes From the Sun's Glare
Almost-Invisible Bifocal Reader Discreetly Etched on Inside of Lens
"Angelina" Fashion Bifocal Sunglasses with Crystals for Trendy, Youthful Women
$ 34.99 $ 49.99
"Angelina" fashion bifocal sunglasses from Aloha Eyewear are bursting with the perfect amount pizzaz and...
Add to wishlist
"Aruba" Bifocal Reading Sunglasses with Genuine Swarovski Crystals
$ 39.99 $ 44.99
Never wear two pairs of glasses again! Women's Sun Bifocals are great for us gals...
"Base Camp" Full-Lens Reading Sunglasses (No Bifocal) Spring Temples
$ 27.99 $ 34.99
Base Camp fashion full reading sunglasses are fun, functional readers that also happen to be...
"Bimini" Full-Lens Reading Sunglasses (No Bifocal) with Vintage Design and RX-able Frames
$ 24.99 $ 34.99
Share this article
FAQ
What is the difference between anti-glare and anti-reflective coating for glasses? Which one is better for a person using the computer for greater than 8 hours a day? - Quora
Some thing. Anti reflective is correct name. Anti glare is more simple trade version. Neither is reduce glare as such, only reflections created by lens itself. Most of the public unaware that any lens create a lot of reflections and ghost images within. They tiresome and always very irritating. Coatings minimize this problem for wearer.Therefore they help if you have to wear spectacles for vision correction to roughly make it feel not worse than perfect eye without glasses. To get them in order to reduce any outside glare is a folly and dirty sales technic. Scare and sell works pretty w…
Related Posts