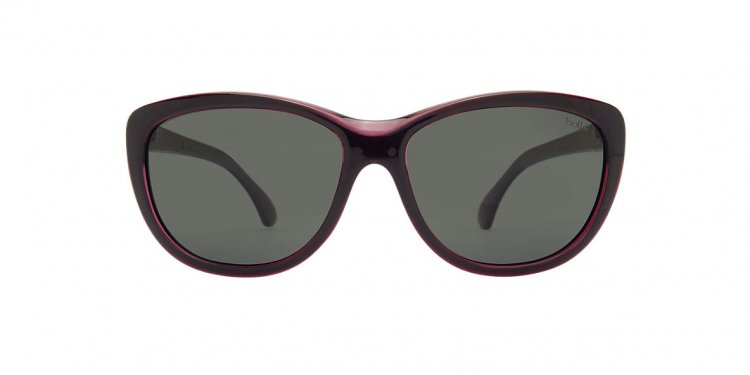 Sunglasses Hut Oxford Street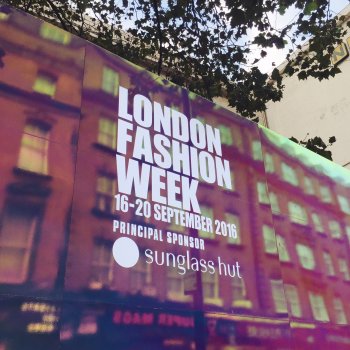 We made our way into central London to pick up the tickets, and a LFW branded tote bag, from the Sunglass Hut store on Oxford Street before heading to the show at Brewer Street Car Park. Inside the BFC show space is a beautifully curated art gallery of images on the first floor, from all over the world, alongside a lovely area to relax and take a break from the chaos of fashion week. Here we sipped on a free Evian flavoured water and snacked on some popcorn, whilst we rested our feet and waited for the show.
Upstairs on the second floor, is a Designer Showroom, home to over 150 designers. Here you can view fantastic collections of clothing, shoes, accessories and jewellery.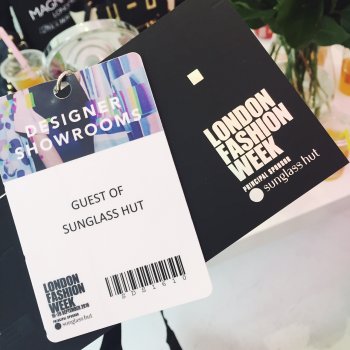 Each collection is unique and differs vastly from the next. Wonderful colours, textures and materials make up each individual space. You could spend hours milling around this area alone. The Designer Showroom is open to anyone with a pass, and so you can view the collections and anytime in between shows.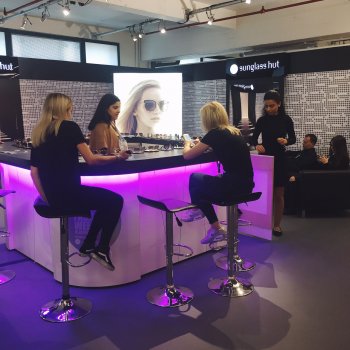 At the far end of this floor is a cafe, a make-up area with Maybelline, a Toni & Guy hair salon and a Sunglass Hat sunglasses station.
The Sunglass Hat area was imaginative with a sunglasses 'sushi' train style bar with stools, where you could try on sunglasses. And if you snapped a selfie of yourself wearing a pair, and uploaded it to Instagram, they had a printer on hand to print your snap out. They also had a customisable tote bag area where you could add your initials to your London Fashion week tote bag.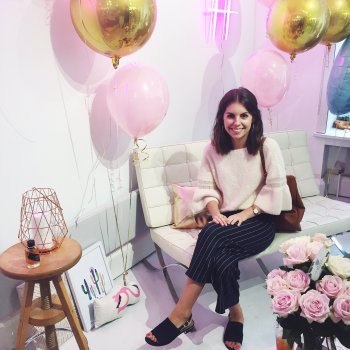 David Koma's show itself was breathtaking! We had our seats bumped up to front row and so we had an amazing view of the catwalk. The 29 year old designer showcased a fantastic collection of bodycon, simple silhouettes in vibrant neons and monochrome colours. Each piece was perfectly put together, and unlike many designer shows, I felt his designs would transition from catwalk to shop floor easily. I myself don't personally dress up all that often but I could see myself wearing many of his pieces. My favourites were some of the more tailored designs with embellished details and rouleau button loops.
We also stopped by The Blogger Programme lounge where we enjoyed many food and drink treats, plus a fun gif booth and we had the chance to catch up with other bloggers who we hadn't seen for a while. It was a fun filled afternoon and hats off to TBP for creating such a beautiful space for bloggers to relax in. I really wanted to take all of the neon signs and pink flamingoes home with me!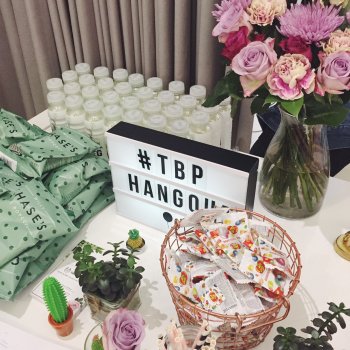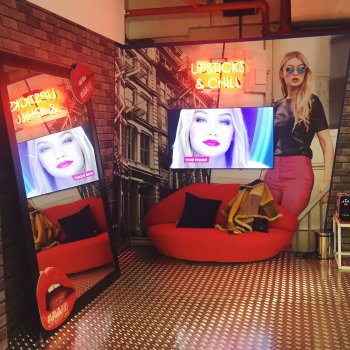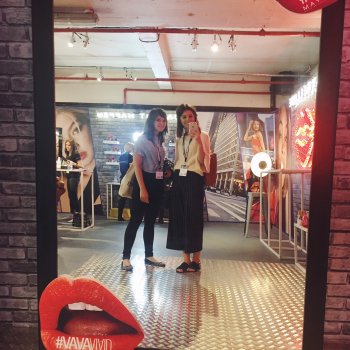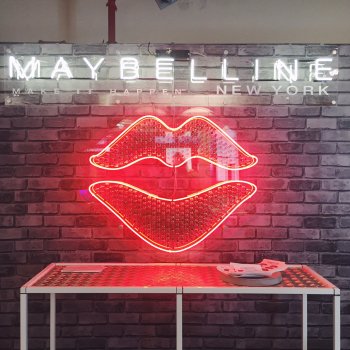 Share this article
Related Posts