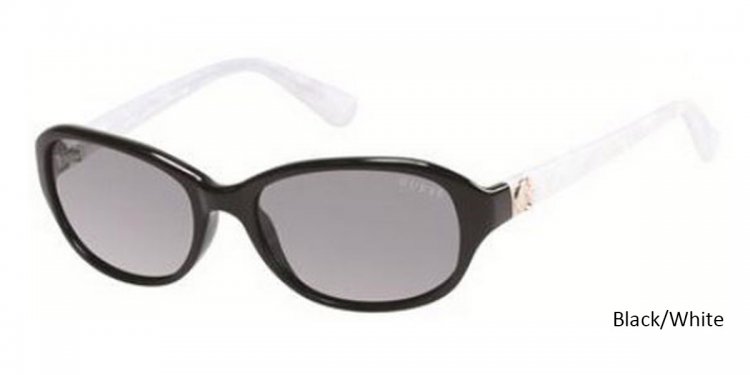 White Guess Sunglasses
4Kate Spade Hilde Sunglasses
The Kate Spade Hilde sunglasses for women look like classic large-frame sunglasses, but they have a fun, quirky flair. The outside of the temple and earpiece is black or deep brown, but the inside surface is covered in a riot of multi-colored stripes, with hues ranging from grass green and crimson to vivid blue, purple, and white. The front frames around the lenses also come in different colors. Buyers can choose to have both the inner and outer portions of the frames in smooth black, or they can opt for a color combination in which the inner rim is olive and the outer one is turquoise tortoise. The third option has dark brown inner rims and purple tortoise outer rims. On the left temple is a small gold plaque with the logo for Kate Spade New York. The Kate Spade Hilde sunglasses have 54-mm lenses, a 16-mm bridge, and a 135-mm temple length.
Of all the color options, consumers appear to prefer the olive and turquoise version. The turquoise portion of the frame is translucent, with a color resembling that of the tropical surf on a sunny day. The Caribbean aura of these sunglasses often wins over women who are planning a beach trip or who want to bring the beach atmosphere with them wherever they go.
Michael Kors Camila Sunglasses
Consumers give five-star ratings to the Michael Kors Camila sunglasses, praising them for their light weight and comfortable fit. These streamlined, minimalist sunglasses come in pure white, a hot style for summer. They can also be purchased in black, nude, or tortoise, depending on the buyer's preference.
Around the eyes, the lenses and frames take on a subtle cat-eye shape, giving a nod to this modern trend, while keeping the look tasteful and flattering to multiple face shapes.
Each temple has a small square- or diamond-shaped section in amber tortoise, bordered by metallic accents and featuring the Michael Kors name. For some of the colors, including black, the metallic accents at the temples and brows are silver. For the white sunglasses, they are gold.
The lenses of the Michael Kors Camila sunglasses feature 100 percent UV protection, but are not polarized. Each of the color versions includes brown lenses with a rosy tint. The frames have a 60-mm lens width, a 15-mm bridge width, and a 130-mm temple length.
Guess is a sexy, fashionable brand that prices its products well within the reach of the average consumer. The Guess GUF7022 sunglasses are a low-budget option for women, yet they still provide high quality and glamor. They receive top ratings from buyers for their sleek, movie-star looks. The large frames of these sunglasses are softly rectangular, tapering to slim, comfortable earpieces. At the temples, the sunglasses boast a triple "G" design in silver, creating a lovely embellishment and cleverly concealing the hinge.
The Guess GUF7022 sunglasses come in shiny black with gray lenses or in pale metallic pink with brown lenses. They offer 100 percent UV protection. The lenses of these sunglasses are 60 mm wide with a 17-mm bridge width, and they are 130 mm long in the temples.
How to Buy Sunglasses for Women on eBay
If you are interested in one of the top six pairs of sunglasses for women, check eBay first before visiting local retailers to save time and money. Filter your search using your desired price range, condition, and brand. Remember to save the search if you are interested in staying up to date with the available sunglasses on eBay. Saving a search gives eBay permission to email you whenever new listings appear so that you can quickly and easily check prices and features.
As you shop, look for listings that include free shipping and watch for Top Rated Plus seller seals on the listings. These special seals indicate sellers that have strong feedback from their former customers and commit to fast shipping, high-quality products, and superb customer service. Click "Ask a Question" on the listing page if you need more information from a seller.
play lifestyle
girls street style
hair salon kitsilano
going really short hair
style of wearing saree in party
hair color trends 2018
lifestyle photography hashtags
pic of tuesday morning coffee
fashion years
on off fashion
astronomy 100
this is fashion
understanding my star chart
trends it
nonlinear model of scientific method
scientific method examples psychology
trend free
science re
mp3 haircut
coffee page
time in science
fashion is
2015 fashion
fashion 20
haircut before
list of hairstyles for black guys
lifestyle house
this is really important meme
science will
source lifestyle
what is fashion
lifestyle tax
astronomy study
cute concert tops
love friends and coffee
fashion at
lifestyle keto shark tank
shopping websites women
its fashion
what is the science
1 in haircut
d a haircut
nature astronomy
big y coffee
it trend
science new
beach party hashtags
trending news cnn
haircut hours
state in science
observation question hypothesis
lifestyle 2010
astronomy help
fashion fair makeup foundation
trending bracelets
haircut tips
great clips idaho falls coupon
lyrics lifestyle
12 trends
a new trend
what to where
into fashion
astronomy home
trending videos facebook
people and coffee
wearing style of lehenga
why this is america not trending in america
news on science
coffee bean source
hair salon national city ca
vip haircut
astronomy basics beginners
state coffee
royal astronomy
fashion men
coffee shops in lakeville
coffee 17
about the coffee
modern haircut women
grand stylist laramie wyoming
lake street hair salon
outfit ideas for winter
am pm coffee
lifestyle law
name of stars in lyra
paris street style spring 2018
lifestyle photography definition
do a haircut
types of celestial bodies in our solar system
new it trends
astronomy online
science diet recall 2019
fashion what's in
lifestyle sales
coffee cup
science is life
it haircut
program astronomy
astronomy iphone
free trend
famous stars and constellations
fashion nova discount code
lightweight bell sleeve dress party
best thing at coffee bean
twitter leak
science can do it
outfit ideas for family photos
who is who in fashion
line haircut
weird things about space
constellation of aries
she is in fashion
coffee shops jobs
new in astronomy
june haircut
trends city
fashion ourselves up
astrology house placements
dvd astronomy
social lifestyle
science is good
science in 2014
sales lifestyle
price science
area science
his coffee
what is science to you
she with science
trend out
stars and stripes forever youtube
lifestyle and home
trending on twitter hashtags
from coffee
astrology cafe cancer
science what is it all about
astronomy time
science friday
50 haircut
us astronomy
what science can do
coffee bean and tea leaf near me
celebrity street style 2018 summer
bad lifestyle
coffee cake topping
a new haircut
study of stars and constellations
mid-ocean ridges
supercuts guarantee
water coffee
Share this article
FAQ
How to remove the white outline of lenses in my glasses - Quora
The best way to avoid this effect is to ask to have the edges polished when you order your glasses. Any optician should be able to manage this for you and there should be no extra charge for this either! This is, in fact the only way that you'll eliminate this.
Related Posts