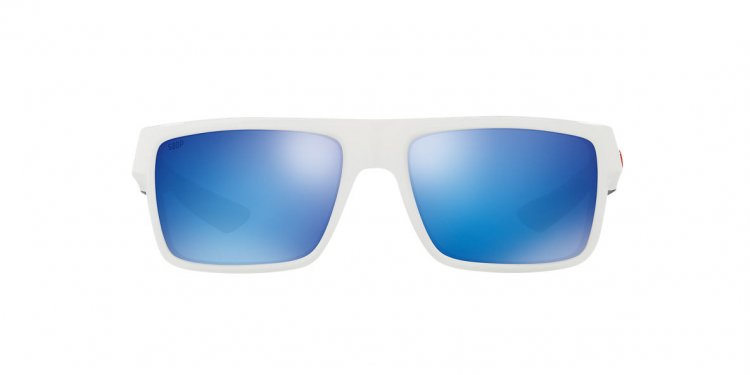 White Costa Del Mar Sunglasses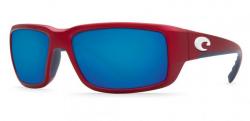 Costa's Fantail in USA Red with blue mirror 580G lens
Costa's Anaa in USA teak with silver mirror 580P lens.
Costa's Copra in USA blue with gray 580P lens
Costa's Blackfin in USA white with blue mirror 580G lens
Daytona Beach, Fla. – Since the company was founded in 1983, every pair of Costa sunglasses has been assembled by hand in Florida. This year, to kick off a summer of American celebrations – from Memorial Day to the Fourth of July to the 2016 Summer Olympic Games – Costa launches its USA Limited Edition Collection.
These Limited Edition Costa sunglasses give seven of its styles a patriotic look. Each style – including the new Anaa, Copra and Motu, as well as brand favorites Blackfin, Cortez, Fantail and Mag Bay – features a unique take on America's red, white and blue. As part of the collection, each pair comes with a custom red, white and blue hard case, cleaning cloth and C-MASK. They're packaged in a specially designed box to celebrate the season.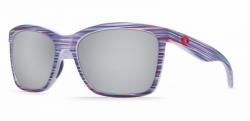 Several pieces in the collection, such as Anaa and Copra, feature Costa's tri-fusion frame color technology – three colors molded together into one beautiful sunglass style.
Costa's sunglasses are comprised of a nearly indestructible bio-based resin material sourced from the castor plant, a sustainable, hardy perennial. The bio-based resin produces increased durability, overall sunglasses weight reduction, and the ability for the frame to hold shape from extreme heat to bitter cold temperatures, crucial for anglers out battling the elements.
Incorporating a bio-based resin frame construction reduces Costa's manufacturing process emissions, and cuts the company's overall carbon footprint significantly.
These USA Limited Edition styles are available in gray, blue mirror and silver mirror lens colors, in Costa's patented color enhancing polarized 580™ lenses. The brand's 580 lens technology selectively filters out harsh yellow and harmful high-energy ultraviolet blue light. Filtering yellow light enhances reds, blues and greens, and produces better contrast and definition while reducing glare and eye fatigue.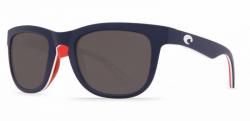 Absorbing high-energy blue light cuts haze, producing greater visual clarity and sharpness.
Costa's 580™ lenses, the clearest lenses on the planet, are available in either glass or impact resistant polycarbonate. The USA Limited Collection lens offerings will vary by frame style. All styles are also available in customized Rx sun lenses.
"We're proud to say we've always built our sunglasses here at home, and the USA Limited Edition Collection helps us celebrate our American pride, " said Al Perkinson, vice president of marketing for Costa. "Because these are part of a limited edition, though, once they're gone, they're gone."
About Costa™
As the leading manufacturer of the world's clearest polarized performance sunglasses, Costa offers superior lens technology and unparalleled fit and durability. Still handcrafted today in Florida, Costa has created the highest quality, best performing sunglasses and prescription sunglasses (Rx) for outdoor enthusiasts since 1983.
For Costa, conservation is all about sustainable fishing. Many fisheries that should be vibrant and healthy are all but devoid of native fish because they have fallen victim to poor fishing practices, unregulated development, lack of watershed protection or all of the above. Costa works with partners around the world to help increase awareness and influence policy so that both the fish and fishermen of tomorrow will have healthy waters to enjoy. Costa encourages others to help in any way they can.
Share this article
FAQ
WHERE CAN I GET GOOD QUALITY FAKE CLOTHES & SUNGLASSES IN NYC NEW YORK CITY? | Yahoo Answers
Im going to new york and Im broke but I want some stylish things, where can i get some good quality fake sunglasses and clothes? Just because Im a broke college student doesnt mean I shouldnt be stylish
go up and ask if they sell fake chanel or coach. most of them make fake coach.
theyll take you up inside a crappy broke shutdown looking building and take you in a little room where they keep their stuff.
but thats only for pretty much idetical looking items.
otherwise.
theres stores all around chinatown that sell it
Chanel Sunglasses? | Yahoo Answers
Does anyone know where I could purchase real Chanel sunglasess at? Thanks =)
go up and ask if they sell fake chanel or coach. most of them make fake coach.
theyll take you up inside a crappy broke shutdown looking building and take you in a little room where they keep their stuff.
but thats only for pretty much idetical looking items.
otherwise.
theres stores all around chinatown that sell it
Related Posts