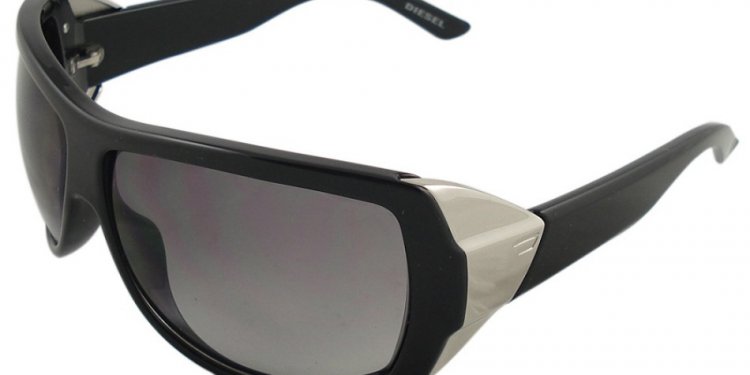 Expensive Sunglasses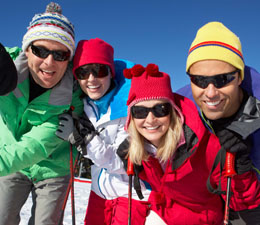 When it comes to protecting your eyes from damage by bright sunlight, a new study has uncovered little difference between cheap and expensive sunglasses. It turns out almost any pair of glasses – even cheap or un-tinted ones – will do the trick.
Many people choose sunglasses for fashion or comfort in the glaring sun. They overlook the key role that shades play in protecting eye health.
If you pay attention to UV protection ratings you may be surprised to learn that the differences in performance and cost are not linked.
Eyes need protection
Going without protection from the Sun's UV can cause a short-term, painful condition called photokeratitis. This is like sunburn on the cornea. While the idea of sunburn inside your eye should be motivation to don a pair of protective specs, repeated exposure to bright sunlight can be devastating and result in glaucoma and other diseases of the lens of the eye.
Children are especially at risk. While most parents apply sunscreen, many forgo eye protection. UV exposure can be really bad around water – so watch out at the beach or lake – but it isn't just a hot weather concern. Snow sports on a sunny day can be especially damaging.
OK, now that you're convinced of the need for sunglasses for more than just looking cool, the next question is which to choose?"
Do expensive sunglasses offer better UV protection?
A recent study comparing several types of clear and tinted specs, using spectroscopic equipment from Halma's Ocean Optics, found very little difference in the amount of damaging UV rays absorbed by the glasses tested.
In fact, dark sunglasses without sufficient UV protection can actually be worse than wearing nothing at all. With dark lenses the iris in your eyes "opens up" to allow more light in – just what you don't want, more of the harmful rays.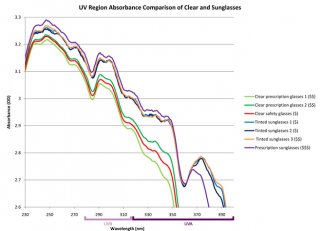 The harmful rays from the Sun are divided into of three bands of ultraviolet light wavelengths: UVA, UVB and UVC.
Most UVC light is filtered out by the earth's ozone layer, so sun protection focuses on the UVA and UVB wavelengths. Both UVA and UVB can damage skin and eyes, with UVB being the most destructive.
In the lower range of UVB rays, all of the sample glasses – from clear readers and safety glasses to expensive, high UV rating sun specs – showed almost the same ability to absorb UV.
This means that they all offer roughly the same amount of protection from the more hazardous UVB light – even the un-tinted ones. Because the clear lenses are made from polycarbonate (plastic), they naturally absorb UVB, without any extra coatings.
In the middle of the UVA range differences do show up. The clear lenses' ability to absorb these wavelengths drops off sharply and offer little protection against UV rays over 350nm.
Surprising results
All the tinted lenses, regardless of price, offer similar protection to the top end of the UVA wavelength range.
Many factors affect the sun protection of a pair of sunglasses, but the results of this study are clear. When choosing sunglasses solely for UVA/UVB protection there's no need to go for the pricier specs. And in a pinch, any pair of polycarbonate lenses will do – even standard safety goggles, although they won't do anything to cut the glare or make you look cool.
Polarized sunglasses are something different – they filter out glare and this makes being out in the sun much more comfortable. It's worth looking for sunglasses that are polarized if you spend a lot of time doing sports at the beach or on the snow.
Share this article
Related Posts