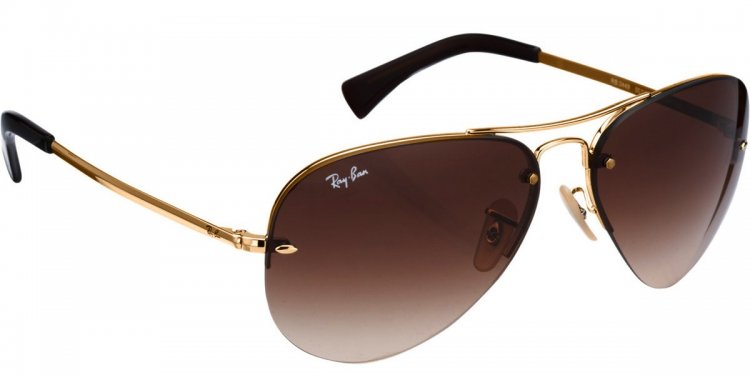 Ribbon glasses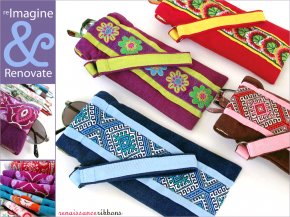 "My future's so bright... I gotta wear shades!" Timbuk3's only real hit, but a classic lyric for sure, and perfect for today's R&R project (Re-imagine & Renovate). We originally created these ribbon-embellished, snap-frame eyeglass cases as a last minute holiday gift idea. With the summer sun beginning to shine, it's a great time to take a second look at the project as re-done by our friends at Renaissance Ribbons. They've re-imagined and renovated them as sunglass cases in the bright colors and fun designs of some of their newest Designer ribbons, adding pretty solid French Grosgrain accents.
These cases have a soft fleece lining to protect your lenses. And, an internal flex frame makes them easy to open and shut with just one hand.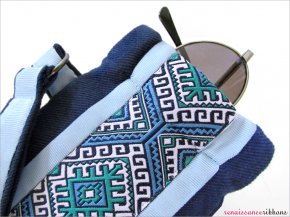 Our original design called for 1½" - 2" Jacquard ribbons as the featured accents with ⅝" Jacquard ribbons for companion accents as well as for the straps. For their cases, the Renaissance Ribbons creative team layered solid color French grosgrain ribbon along the sides of each focus ribbon, then used this same solid ribbon as the strap's accent.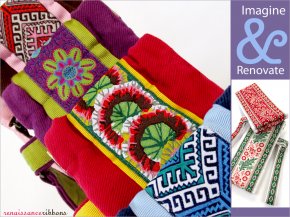 The solid color does a very pretty job of complimenting the main ribbon's motif.
Below, we've listed the ribbons Renaissance Ribbons selected for their four R&R samples. All these ribbons are available at fine retailers online and in-store, as well as by using the links below to buy directly from the Renaissance Ribbons Retail Store. The exterior fabric is classic colored denim and the interior is a soft white fleece, which is the same as used in the original project.
Blue Case
Brown Case
The new cases were made following the original instructions with just minor alternations to add in the 1" French grosgrain ribbon. For the case's ribbon embellishment, rather than stitching two ribbons side by side, the solid 1" ribbon was cut into two ½" lengths then layering the raw edge of the grosgrain under the sides of the Jacquard ribbon, allowing the amount of solid color showing to either side of the focus ribbon to vary. The two ribbons were then edgestitched to the fabric as one unit along the edge of the Jacquard ribbon. The outer edges of the solid ribbons are not stitched, which gives them a subtle wave.
To make the 1" French grosgrain ribbon the correct width for the ¾" strap, each side was folded under ¼" prior to stitching the ribbon to the fabric. This created a ½" solid ribbon accent against the ¾" strap.
These are fun change-ups, and we always encourage visitors to feel free experiment with little changes that make the project your own.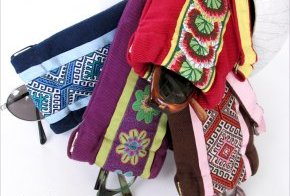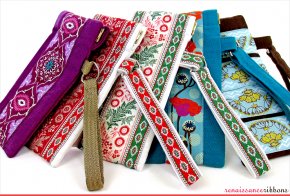 Share this article
Related Posts