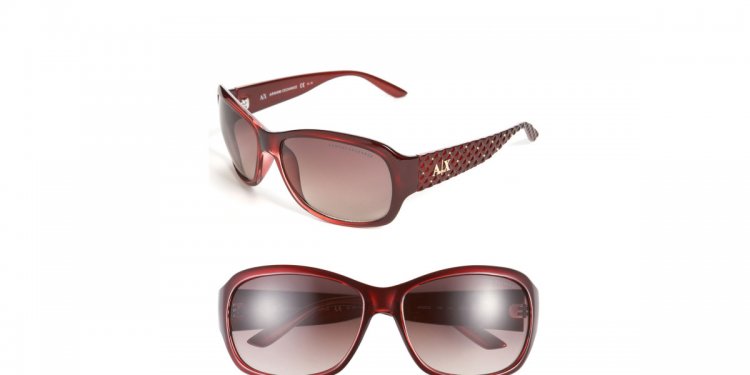 Armani Exchange Sunglasses for Women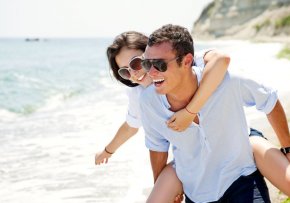 Armani Exchange is the youthful, cutting edge fashion line from famed designer Giorgio Armani. Designed as a more affordable line with a trendy, urban feel, Armani Exchange offers a line of clothing and accessories for men and women that includes fashionable sunglasses in a variety of styles. Armani Exchange sunglasses feature the high quality, Italian designer flair that is expected of any Armani product, but come at a more affordable price point than Armani's couture line.
About Armani Exchange
Launched in 1991, the designs in Armani Exchange were inspired by dance clothing and urban street style, which created a fresh, exciting look aimed at a younger audience than the couture Armani clothing. The line has been very successful and has changed over time in keeping with current trends. Armani Exchange is known for a young, sexy, hip feel that has been apparent in the marketing of the brand. In addition to sunglasses, Armani Exchange offers men's and women's clothing, watches, handbags, and even fragrances.
Armani Exchange Sunglasses
Armani Exchange's line of sunglasses is available for both men and women. The line offers plastic and wire frames with a variety of lens tint levels and colors, including some with reflective lenses. The sunglasses are made of high quality materials and retail at a lower price point than the higher-end Giorgio Armani label. Armani Exchange sunglasses are sold with cases that may be either hard plastic or soft fabric bag-style.
Sunglasses Styles
The line of sunglasses from Armani Exchange generally comes in classic shapes with modern twists, including the most popular sunglasses styles.
● Aviator
● Cat's Eye
● The "Wayfarer" style, similar to the classic Ray-Ban Sunglasses
● Oversized Lenses
● Shield Style
There are also multiple shapes available in the Armani Exchange line to fit the shape of any face.
● Oval
● Square/Rectangular
● Octagonal
Armani Exchange Sunglasses for Men
The line of sunglasses for men features classic styling with an urban edge and is designed to be both sophisticated and trendy. Men's sunglasses from Armani Exchange are commonly Aviator style or Shield style. Square and Wayfarer styles are also available. They come in a variety of colors including black, blue, and bronze. While the men's sunglasses line is aimed at a younger market, the classic shapes and styles are suitable for just about any age.
Armani Exchange Sunglasses for Women
The women's line of Armani sunglasses includes the popular oversized frame and lens style as well as the retro Cat's Eye style. Aviators, Wayfarers, and other shapes are also available for women. The women's line tends to feature more feminine details on the arms and in the frame, including intricate details and patterns on the arms. A|X women's sunglasses are available in a wide variety of colors including pink and gold in addition to the classic colors in the men's line. Women's sunglasses are usually narrower to accommodate the smaller heads of most women, but many women can also wear the men's Armani line.
Unisex Armani Exchange Sunglasses
There are a number of styles from Armani Exchange that are meant to be unisex sunglasses. This means that they are styled so that both men and women can wear them. It's important to note that Armani Exchange sunglasses do not come in different sizes and are considered a "one size" fit. Unisex sunglasses may not be the best choice for someone with a smaller head or face, as they might not fit as well because they are designed to fit both men and women. Those seeking a unisex choice that will fit a smaller head should consider adjustable metal frames, such as those on an Aviator style, as they can be made to fit more accurately. Plastic frames cannot be easily adjusted. Although certain styles are designated as unisex, many of the Armani styles are so classic that they can easily be worn by a man or a woman. Most of the Armani Exchange sunglasses that are considered to be unisex come in neutral colors including black and bronze, but there are also some brighter color choices such as red.
| Sunglasses For | Common Available Styles |
| --- | --- |
| | |
| | |
| | Aviator , Shield , Square, Oval |
Choosing Your Armani Exchange Sunglasses
| Face Shape | Best Armani Exchange Sunglass Shape |
| --- | --- |
| Heart-shaped | Cat's eye, Round |
| Long, Oblong | Oversized, Shield |
| Oval | Square, Wayfarer, Shield, Aviator |
| Square | Aviators, Cat's Eye |
| Round | Shield, Oversized |
Of course, many factors can affect how a particular shape looks on you, and personal taste also plays a role in your choice. If you want a very modern look to your sunglasses, the A|X Shield and Square shapes are a good choice. If you prefer a classic look, try an Aviator or a Wayfarer style. If you're looking for retro flair with a glamorous edge, oversized frames and Cat's Eye shapes are the perfect choice. Consider all of the aspects of buying sunglasses that are right for you before you choose.
Recognizing Armani Exchange Sunglasses
Armani Exchange sunglasses bear the well-known Armani Exchange logo, the A|X, as well as the full name of the fashion line. You can find these logos in various places on the sunglasses. The A|X logo may be found on the outside of the arms; this is most common in plastic-framed sunglasses since metal frames may have arms that are too thin for the logo placement. Inside the arms of the sunglasses you will find the full Armani Exchange name. It may also appear on the outside of the arms or along the rim of the lenses. Armani Exchange sunglasses will come with a sticker on the lens that bears the A|X logo. The sunglass case will also bear the name and logo of the brand for easy recognition. While the top end Armani couture sunglasses are usually made in Italy, Armani Exchange glasses are often made in China and will bear that marking on the arm as well.
Where to Buy Armani Exchange Sunglasses
Armani Exchange sunglasses are available at various brick and mortar retailers and online from websites like eBay.. Sellers on eBay often have not only new, current season styles, but also classic styles or those no longer available for sale, giving you a bigger selection to choose from.
Share this article
Related Posts